How to decorate your home for photography to enhance its appeal for prospective buyers
Decluttering: When tidying up your home, concentrate on removing objects that can be distracting or make your home feel cramped. Take into consideration removing personal items like family photos and excess furniture. This will create an impression of more space and allow prospective buyers to imagine themselves living in the area.
 Clean and organize: A tidy and clean home is necessary for excellent listing photos. Make sure to clean all surfaces, including floors, countertops, and windows. Pay attention to details like removing fingerprints and smudges on light switches and doorknobs. Ensure that all the rooms are clutter-free and tidy.
 Add color and Align the decor with the style of the house.: Introducing colorful accessories such as pillows, throws, and artwork can make your home look more welcoming and add some character to your space. You can also add colorful flowers to your living room or kitchen to create a warm and inviting atmosphere. Check out a florist Northern Beaches. 
 Utilize natural light: Proper lighting is essential when taking good listing photos. Natural light is the ideal option, so be sure to open up all curtains and blinds. If you have dimly lit rooms, think about adding additional lamps to brighten up space.
 Arrange your rooms: Staging your home includes arranging your furniture to showcase your home's best features. Focus on creating an inviting and friendly ambiance in each room. Ensure that the furniture is arranged in a way that creates flow and emphasizes the room's size.
 Highlight key features: Each house has unique features that make it stand out. If you have a fireplace, add some decorative items to the mantel to showcase it. If you have a large picture window with an amazing view, make sure it is visible in your photos.
 Take photos from various angles: When taking listing photos, be sure to capture your home from different angles. This can help potential buyers get a better idea of the layout and size of each room. Consider taking photos from the corner of each room to make it look more spacious.
In conclusion, by decluttering, cleaning, adding color, utilizing natural light, arranging your rooms, highlighting key features, and taking photos from various angles, you can make your home look more attractive and appealing to prospective buyers. Remember, the objective is to make your home look welcoming, spacious, and ready for its close-up.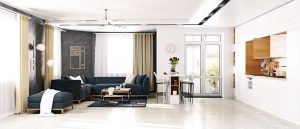 What are the benefits of hiring a professional interior designer for your home decoration project?
If you lack confidence in your decorating skills or are short on time, it may be worth considering hiring a professional interior designer to assist with decorating your home for photography in preparation for selling it. An interior designer can offer expert advice on creating a visually appealing and inviting space that showcases the best features of your home.
Expertise and Knowledge: Interior designers possess extensive training and experience in design principles, color theory, and space planning. They can help you develop a cohesive and visually appealing design plan that reflects your personal style while meeting your needs and budget.
Save Time and Effort: Preparing a home for photography for sale can be a time-consuming and overwhelming process, particularly if you're unfamiliar with design principles. Engaging an interior designer can save you time and effort by managing all the details of the design process, from selecting the appropriate furniture and accessories to arranging them in a way that emphasizes your home's best qualities.
Increase Property Value: A well-decorated and staged home can boost the perceived value of your property, making it more appealing to potential buyers. An interior designer can assist you in developing a design plan that maximizes the available space and highlights each room's best features, making your home more enticing to potential buyers.
Access to Resources: Interior designers have access to a broad range of resources, including furniture, accessories, and decorative items that are not readily available to the public. They can help you find the right pieces to achieve the desired look and feel for your home.
Attention to Detail: An interior designer can help you pay attention to the small details that can make a significant difference in the overall look and feel of your home. They can help you select the appropriate lighting fixtures, artwork, and decorative touches that will create a warm and inviting ambiance.
Staging Expertise: Interior designers are skilled in the art of staging, which involves arranging furniture and accessories to create a visually appealing and inviting space. They can assist you in staging each room to create a welcoming and inviting environment that will appeal to potential buyers.